What is it about beautiful isolated places that makes them so attractive?
I grew up in Tasmania, in a working class family who never really had any spare change. We would ride our bikes to old quarries after school , played on abandoned mining machinery, raced each other across hill tops to look outs out over the river Derwent, and played spot light up and down the street before our mums called us in for tea. We made our own fun I suppose. Good clean free fun.
Lucky for us, Tassie in the 80's was cheap and lots of it was free! If you didn't want to go overseas for your holidays – you were fine! That included going to The Mainland of course! To fly somewhere was a luxury most people couldn't afford! But if you drove a short distance, even 10 minutes, you could easily find yourself on a walking track in the wilderness.
So, for longer holidays we would always go and stay at a tumble down fibro cement shack with my cousins at a small coastal village about 3 hours from Hobart called Coles Bay. Three hours is a HUGE drive when it would only ever takes you 5 minutes to drive to the other side of town! And when the drive was along narrow winding roads over mountains with names like 'Break your Neck Hill' which you shared with the occasional log truck, it was quite a hairy (and exciting) journey!
We would rent 'The Shack' from our Grandfather's old friend, and spend the first hour there fighting over who would be the one to sleep on the bed with the giant Emperor Crab above it – on the wall – We all feared that it would come alive at night- at midnight exactly- and climb down and bite us on the bottom as we slept! (I still hold a genuine fear of large crustaceans….)
We would even look forward to having our first bath there in 'Coca-Cola' water from the rusty water tank – Yes, dark brown water was exciting to us at the time!!
The rest of the holiday would be spent playing board games, reading books, and walking down to the corner shop to buy hot chips or icy poles. We would always say hi to Jim, the old cockatoo who lived in a rusty old cage outside the shop – who could only ever say 'Hello Jim! Hello Jim!" That was okay with us – we had no idea what else to ask him!
We rode rusty old bikes, tried to fish off the jetty with the old fishermen, and generally ran riot – between and sometimes during meal times.
But there was one particular activity we always looked forward to doing – and the weather had to be 'just right' for us to do it. Not too hot, not too cold and no chance of rain.
We would get in the car and drive to the National Park – only really 5 minutes away – and set out for the walk over 'The Saddle' to Wineglass Bay.
It was always a race to the top – to the Look-out. I can never remember being hot or tired! Just excited! From the look-out you would catch that postcard moment of turquoise blue and pristine white sands encircled by the grey green landscape. No need for photos – its all still there in my mind's eye.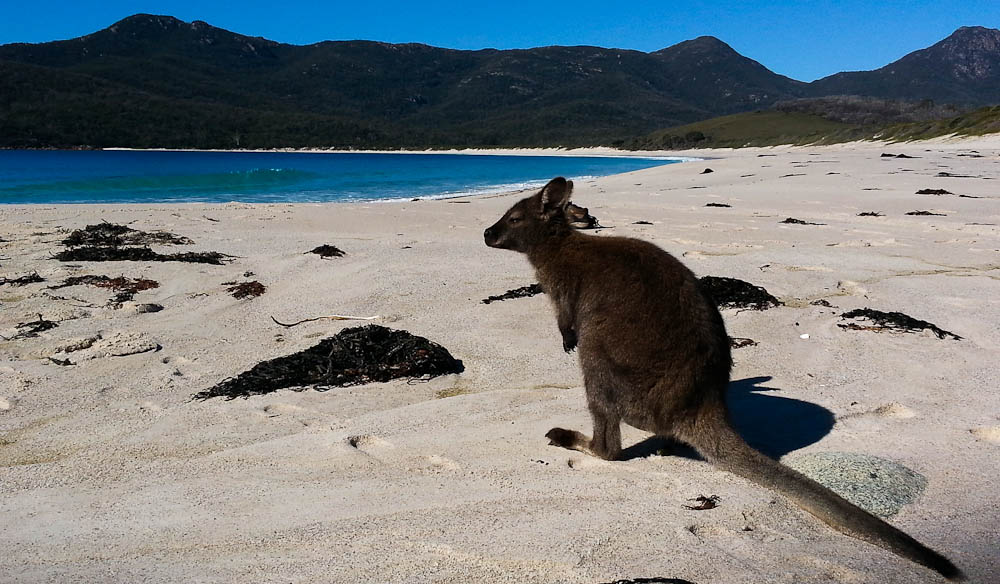 Then, when the parents finally caught up – we would get the go ahead to race down the other side! To feed the wallabies carrots and stale white bread crusts on the pure white sands of the bay.
It was generally us kids, a parent or two, the wallabies, the crystal waters and the bush. Our own private beach. Not another soul to be seen as we climbed on the granite rocks and watched the waves crash onto the sand.
I can't remember how many times I've done that walk – countless times – as a child.
And now as an adult I keep finding myself going back to that special place. And oh how its changed….
The flights are stupidly cheap these days. The road so much wider, you can drive faster and get there quicker than every before. 2.5 hours of driving is nothing if you live on The Mainland.
And so they come now, in droves – The numbers of people on that walk just getting larger and larger. The accommodation expensive, luxury and booked out months ahead.
Don't even bother trying to find a campsite in the peak season.
They charge you entry to the National Park these days. Tell you if the weather is going to be ok.
The path is 'accessible' no more granite rocks to climb over – they smoothed it down and popped in seats every 100 metres for those who need a rest as they climb up to see the million dollar view and get that one picture for a screensaver.
Although there will be a couple of luxury boats and yachts in your photo now – apparently Wine Glass Bay is THE place to sail to and drop anchor at these days. Its just so 'pristine' – "OMG – you have GOT to 'do' Wine Glass Bay this year".
The shack has been bulldozed and the land is for sale – for probably 100 times what my Grandfather's friend would have paid.
But he is long gone (so is Jim the cockie) – and the corner shop is now a boutique supermarket.
Its all about dollars these days.
So now I can only afford to park the campervan illegally in the car park overnight!
But luckily the locals don't mind – they would do the same!
And if I look carefully I can still see those old fishermen on the pier, catching fish as the sun sets.
And there is still a wallaby or two in the car park who you can give a spare carrot to.
Some things change, some stay the same….
Have you got any special memories of places from your childhood that have changed since you grew up?
Have people with dollars come in to own and change all that was good about it?
Can you still recognise it now, from what it has become?